Yeah, I've been catching up on the 2nd season of Grey's Anatomy and cracked up when it got to the part where Meredith was "knitting a sweater" and signing off on men. That's NOT why I'm knitting sweaters. I'm married so I'm signed off on all men besides my husband already. But yeah, I've knit some shrugs and smaller sweaters but just tackled the top-down-raglan that you can make to your own measurements. I used this pattern: http://www.woolworks.org/patterns/raglan.html. It really wasn't as hard as I thought. In fact, it's quite fun and easy! So much that I started another one and then ANOTHER one! Crazy, eh? So, since I'm 8 months pregnant, I'm not going to model the first one for you. I'll have to wait till the baby is born to have it look the way I want it. But here's a pic and the specs.
Yarn: Caron Simply Soft
Needles: Size US 8, 29" circulars and 8 DPN's (for sleeves)
Changes to pattern: I added waist, sleeve, and boob shaping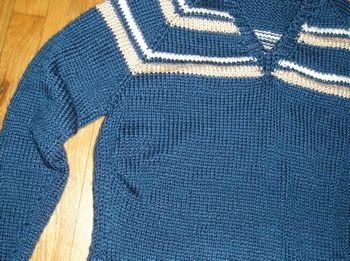 The next sweater I started is from the newest edition of Vogue Knitting Mag. I had this thick/thin yarn for forever and had started a sweater but never finished because I didn't like how it was turning out. I wasn't sure what I was going to use the yarn for. And then I saw this pattern for thick/thin yarn in VK recently and said to myself, "yes! this is it!". It's a top-down-raglan type of pattern with a random lace pattern. However, I think I'm going to make it longer and long sleeved. I stopped where I'm at right now because I want to try it on after I have the baby for the perfect fit. So, it probably won't get finished for another couple months. But here's what I've started on...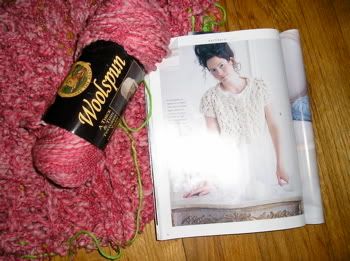 And an up-close of the random lace pattern...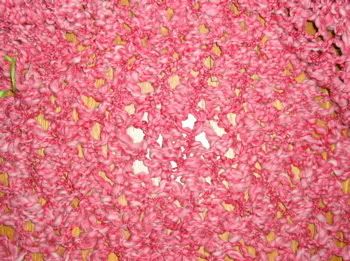 FINALLY, I'm currently working on this from the same pattern as the navy sweater but I'm making it into a cardigan. I had this yarn in my stash for another sweater I was going to make for a gift (it's half-crocheted and I'm not going to finish it). So, here's my progress so far...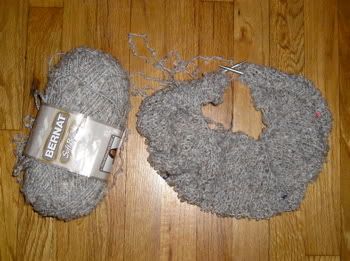 You can't really tell how it's going to turn out yet but it's a soft boucle yarn that's mostly grey flecked with tan. More pics to come as the work progresses....
And that's it for now! **PHEW**!