I made like 8 or 9 of these for gifts for Christmas and everyone seems to love them. They are felted slippers (a pattern by Fiber Trends). I recently made another pair... originally for myself but they may end up being a gift for someone else after all. Since I didn't take any pics of the ones I made for Christmas, I decided to post these. Here's a pic before the felting process...
For those of you who don't know, "felting" is a process in which a knitted item (knitted in 100 percent wool or other animal fiber) is agitated in hot water for a period of time until it has shrunk and "felted" to what you want the finished product to look like. It produces a fabric that is sturdy and a bit fuzzy. So, you knit what you want real big and then throw it in the wash (only using the agitating cycle) for a bit and WALAH... you've got a felted product! Here's the finished slippers...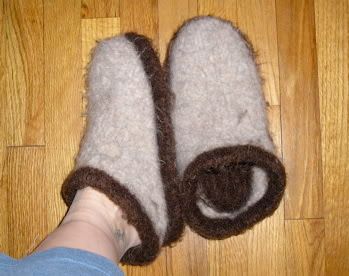 These took me about 6-8 hours to knit and felt. And it's so worth it! It makes such a great gift! And they keep my feet nice and snuggly warm. Like I said, they are my ALL-TIME favorite slippers.